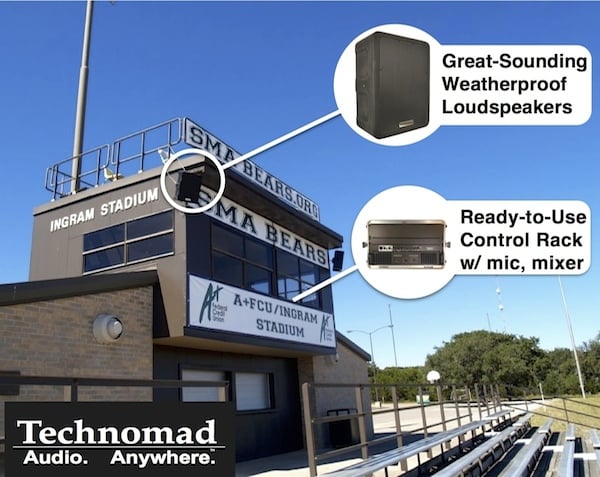 The Fall season is in full-swing… and maybe your old PA system isn't performing as well as you'd like? Get the sound your team deserves with a Technomad turn-key audio system.

Our US-made packages provide everything you need. Systems come with microphone, 6 channel mixer, amplifier, cables, mounting brackets, and a pair of great sounding and completely weatherproof Technomad loudspeakers. All you have to do is plug it in and attach the speaker cables.
No audio expertise is needed to install and use.
Who else uses Technomad? The US government, all major theme parks, all major cruise ship lines, and thousands of high school, college, and professional sports facilities. Options include wireless microphones and subwoofers. » Take a web-tour of our favorite stadium installations

See More Photos | Customer Comments + Video! | Questions (F.A.Q.)
---
Model# IPA3
The ultimate install PA system. 2000+ listeners.
» More Info

Get Pricing or Order

---

Model# IPA2
Our most popular package. 1000+ listeners.
» More Info

Get Pricing or Order

---

Model# IPA1
An excellent basic system. 200+ listeners.
» More Info

---

Need super light & portable?

DragonFly is light, loud, weatherproof. AC/DC power and 4+ hour battery.
Model# DRAGONFLY
200+ listeners.
» More Info

Get Pricing or Order

---
We look forward to supporting your outdoor audio projects this Fall. Contact us with any questions – we're here to help.
Sincerely,
Technomad Customer Care
customercare@technomad.com
1.800.464.7757 x 0


---
You received this email because you're a current customer or previously opted-in to receive information from Technomad.
Wish you had not gotten this email? Just visit
https://www.technomad.com/unsubscribe/
and enter your email for permanent removal. Thanks!